Rockport Texas fishing and duck hunting
Contact Saltitude Outfitters
361-205-9833
| www.saltitudeoutfitters.com


SOUTH TEXAS DUCK HUNTING - Coastal Duck Hunting
REDHEADS, PINTAILS, GREEN-WING TEAL, BLUE-WING TEAL, WIDGEON, GADWALL, AND SPOONBILL
**ASK THE CAPTAIN ABOUT "CAST & BLAST" SPECIALS WHEN YOU CALL!**

It is hard to find a better place to duck hunt on the Texas Coast than Rockport! Ducks such as, Green-wing and Blue-wing Teal, Redheads, Pintails, Widgeon, Spoonbills, Gadwalls, Buffleheads, and Bluebills are common species that can fill your bag limit! Guided and unguided hunting trips are available in both mornings and afternoons.
Capt. Sam Schiwart, USCG Licensed / TPWD Certified Fishing Guide
Duck Hunting Rates

Group Maximum is 4 passengers + the Captain
Non-Guided Hunt: $125 per gun
Guided Hunt: $175 per gun
*2 Gun Minimum
Call for pricing for parties of more than 4 people. Corporate and multi-boat outings welcomed.
THE CAPTAIN'S SERVICES
Group Maximum: 4 people + the captain
Trips depart from either Goose Island (just north of Copano Causeway) or Cove Harbor (south of Rockport). Both are a short distance from Rockport, Texas and the Captain will fill-you-in on your trips details when you call to reserve!

For Larger Groups - Multiple Boats are Available to Take you to the Blinds. We Can Accommodate Your Needs! He will transport you to the blind(s), spread the decoys, clean and bag the ducks for your trip home!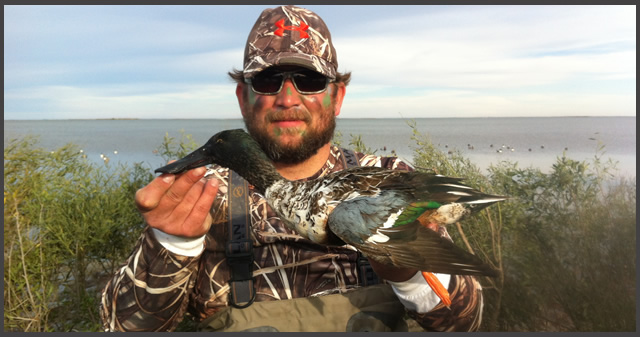 *WHAT THE CAPTAIN SUPPLIES
-Transportation to and from blinds
-Duck Decoys
-Cleaning and packaging of ducks
-Great Memories

*WHAT YOU'LL NEED TO BRING
-Drinks and snacks
-Hat, Sunglasses & Sunscreen
-Weather appropriate camo clothing
-Waders
-Shotgun and Steel Shot Shells
-Current TPWD hunting license and Duck stamp
-Ice chest to take your ducks home

**REQUIRED: Federal Migratory Bird Hunting & Conservation Stamp Plus your Endorsement Receipt.
*LICENSE REQUIREMENTS:
All migratory game bird hunters must have a valid hunting license. Non-residents under 17 years of age are designated as residents and may hunt with a resident license. Hunters 17 years of age or older must have a driver's license or personal identification certificate (issued by the Department of Public Safety) on their person while hunting. Non-residents must have similar documents issued by the agency in the state or country of which the person is a resident that is authorized to issue driver's licenses or personal identification certificates.
*STAMP ENDORSEMENT REQUIREMENTS:
A person 17 years of age or older must possess a migratory game bird stamp endorsement receipt to hunt any migratory game bird in this state. Federal law also requires waterfowl hunters 16 years of age and over to have a Federal Migratory Bird Hunting and Conservation Stamp (commonly called a Duck Stamp; available at most post offices and TPWD offices).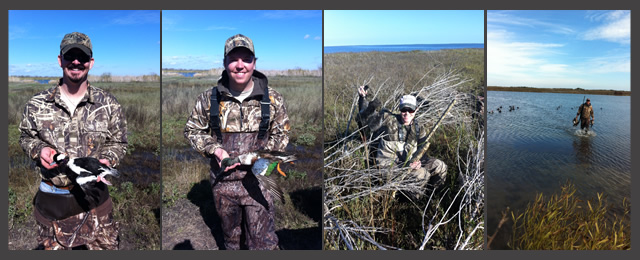 *DEPOSIT - $100 DEPOSIT IS REQUIRED
Checks and Money Orders Accepted. Please mail your deposit to:
Capt. Sam Schiwart
916 Oak Avenue Rockport, TX 78382
*Captain Accepts: Checks, Cash, Money Orders only*
*Online Deposit Payments Coming Soon...
*CANCELLATION POLICY
The Captain reserves the right to cancel a trip due to inclement weather or circumstances beyond his control. Your trip will be rescheduled for a future date if possible, however if you have to cancel and want to receive a full refund, you must contact the Captain BY PHONE 14 days prior to your trip date. Any less notification than 14 days and your deposit will be retained.
VISIT THE FOLLOWING COMPANIES THAT MAKE DUCK HUNTING GREAT!

Duck Hunting Prices

Non-Guided Hunt: $125 per gun
Guided Hunt: $175 per gun
*2 Gun Minimum
Morning or Afternoon Hunts Available

Conditions/Requirements

Safety First!
*SHOTGUNS AND STEEL-SHOT ONLY. (NO LEAD-SHOT PERMITTED.)
*ALL PARTIES ARE RESPONSIBLE FOR THEIR OWN GUNS AND SHELLS - AT ALL TIMES DURING THE HUNT.
*SAVE YOUR ALCOHOL/BEER FOR AFTER THE HUNT PLEASE. THIS IS PART OF A SAFETY PRECAUTION FOR HANDLING FIREARMS.

Capt. Sam Schiwart is an Active Member of Ducks Unlimited
News and Events

What's Happening at Saltitude Outfitters...
FACEBOOK | Like Us Here
Follow Saltitude Outfitters!
Captain Sam posts the latest news and info on the Official Saltitude Outfitters Facebook page.


SALTITUDE BLOG | Follow Our Posts
The Captains Journal...
Get the latest Rockport, TX weather reports and upcoming fishing and duck hunting trips...
Testimonials

See What Our Customers are Saying!
" We had an awesome fishing trip with Capt. Sam. He is very knowledgeable and took us to a great fishing spot were we caught lots of fish. My family and I will definitely fish with him again in the future."
-Mary T.
" Recently my family and I went on a fishing trip with Captain Sam of Saltitude Outfitters. I just want to say that he was very patient with us newbies and we learned a lot about fishing. He is also very safety conscience, which was very important to me and by husband when it came to the safety of our kids."
-Laurie R.
" We booked Capt. Sam for a guys weekend fishing trip and had a blast. Caught lots of fish and had an entertaining day on the water."
-Jeremy S.
" My buddies and I use Saltitude Outfitters for our yearly duck hunts. Our guide (Sam) always does his best to see to it that we have a fun and successful hunt!"
-Josh T.
" Top-notch service!"
-Steve A.